Welcome to Dougies BBQ and Grill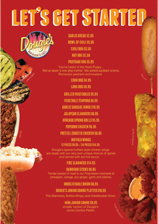 Click here to view
our full menu
Thanks for choosing Dougie's BBQ, celebrating the grand opening of our brand new, honest-to-goodness family-style barbeque restaurant in Baltimore, Maryland. For your convenience, we accept all major credit cards. You'll find us at 600 Reisterstown Road, in the Pikesville Plaza Building located at the corner of Slade Avenue in Pikesville. We're open 11 a.m. to 11 p.m. Sunday thru Thursday (Motzoi Shabbos in the winter and Fridays in the summer), and we deliver delicious lunch or dinner to your door.
Dougie's barbeque and grill is something so fresh, so delicious and so different, it will change the way you think about kosher eateries. Something so fresh, so delicious and so different, you'll keep coming back until you've had everything on the menu and then start all over again.
How, exactly is Dougie's different? From the moment you first walk in the door you'll begin counting the ways: from the sizzling steaks and chicken specialties (hot off the grill), to the heaping pasta platters, to the crisp and sumptuous salads – Dougie's is different. From the juiciest ribs you'll ever eat – to the most delicious, melt-in-your-mouth tenderloin you've ever imagined – to the meatiest shish kabob anyone's ever put on a stick – Dougie's is different. From the chili to the chili dogs, our famous unbelievable onion to the sweet potato chips, the pastrami burgers to the pastrami on club, and to our unique specialty, Fire Slammers (a/k/a "Poppers") – Dougies is different. From the family-friendly atmosphere to the spic-and-span cleanliness to the old-fashioned courtesy and service, Dougie's is the place you'll want to be!
Can't make it to Dougie's? Here's the next best thing: Dougie's now ships its famous ribs and wings nationwide. For details on delivery, please call us, we'll be glad to assist you.
For a taste of Dougie's that's guaranteed to spice up your own home cooking, check out the selection of Dougie's patented barbeque sauces and salad dressings available in your neighborhood stores. Make every day the Dougie's way!
Are you putting together a special event and want Dougie's to come to you? Yes it's true- Dougie's caters off-premises, specializing in even the most unusual venues boxing gyms, yachts, stadiums, and more. We can even accommodate crowds ranging in size from 10 to 10,000 people. We also have an in-house party planner to help make your affair a hit. Be good to your guests…
Dougie's is different. Because in the end it all comes down to taste.
From the very beginning, Dougie's has been serving up the kind of food that makes you glad you get hungry. But Dougie's is also about a friendly, fun-filled environment – as reflected in the paper-covered tables that just scream out for drawing and doodling, an activity Dougie's gladly indulges by providing crayons and markers to keep would-be Rembrandts of all ages busy before meals and between courses.
Dougies of Baltimore offers the best of all possible worlds – a casual full-service spacious restaurant designed for families and a quiet, private glass-wall accented ideal for a business lunch or a dinner date to a quick refueling nosh. And if you're expecting a crowd for a festive occasion or group get-together, Dougie's features a spacious party room that can be reserved at your request. Perfect for Bar Mitzvahs, Sheva Brachos and any other simchah – Dougie's party room is custom made for your dining pleasure in an elegant atmosphere.